Recent Electric Vehicle Job openings
We intermediate for mid-level, senior and (executive) director roles. Due to confidentialty we don't publicly display the names of our clients during the process.
EVBoosters recruits for high impact positions across the EV Value chain. Due to confidentiality we share our job openings anonymous. We don't offer an online apply button since we work the other way around.
We SELECT & RECRUIT the best suitable candidates within our extensive network in e-Mobility, Automotive & Energy & Utilities.
Share your EV ambitions...
Possibly we already know each other since we are directly connected to 3000 experienced e-Mobility companions across the globe.
We love to get to know you better and your ambitions in the e-Mobility landscape. So feel free to share your EV DNA and ambitions with us, so we can approach you directly in the near future.
Some of our Electric Vehicle Jobs:
Due to confidentiality, we often don't present senior executive roles via our online channels
Head of Business Development EV Charging Solutions
Based: Offices in all major EU countries, remote working
The opportunities regarding integrating parking and EV Charging solutions are massive for this largest parking payment provider in the world. For that reason, the company started the first activities a few years ago already. It will be your role to further develop new value propositions and monetize this along with the local partners and offices on the European continent. Requirements: At least 5 years of experience at a eMSP/CPO or charging manufacturer, good understanding of developing and commercializing EV Charging products/services.
EV Charging Infrastructure
Business Development Manager DACH
Based: DACH Region, preferably situated in Germany
Our client (listed Nasdaq), develops, fully in-house manufactures EV charging solutions and services for electric vehicles (EVs) operating in the most demanding conditions. This global listed fast-growing player is recruiting a Business Development Manager to further expand its position in the DACH region. Requirements: At least 2 years of working experience in EV Charging DACH, relevant commercial network with strong program management skillset.
eMobility Sales Engineer (M/F/X)
The e-Mobility Sales Engineer is the technical expert within the sales team. you evaluate the feasibility of projects requested by customers of TotalEnergies. Next to that, you sort out technical and financial terms for new projects. Requirements: 3 years of relevant project management experience in a similar role, background in EV Charging or related industry, fluent in Dutch and French.
e-Mobility Technical Product Manager (M/F/X)
The e-Mobility Technical Product Manager determines technical/functional developments and test products for Charge Point Operator (CPO) activities in Belgium in order to build the most relevant, appropriate and effective solutions. Requirements: minimum of 1-year technical experience in the eMobility sector / EV Charging Ecosystem, fluent in Dutch and French.
eMobility Project Leader (M/F/X)
Based: Brussels, Belgium.
The eMobility Project Leader ensures that charging infrastructure projects are carried out according to the contractual agreements. Requirements: 3 years of relevant project management experience in a similar role, background in EV Charging or related industry, fluent in Dutch and French.
Head of Product Innovation & Design
Based: Surrounding Essen, Germany
As Head of Product Innovation & Design, you're responsible for managing the team of product managers and solution designers, overseeing all the existing and new-e-mobility products and services. Together with your team, you accompany the products and services through all phases in the process, starting with the assessment of the regulatory environment, until the development of the requirements in IT, supported by creating the necessary sales and presentation documents, for the service offering and the training of the sales force.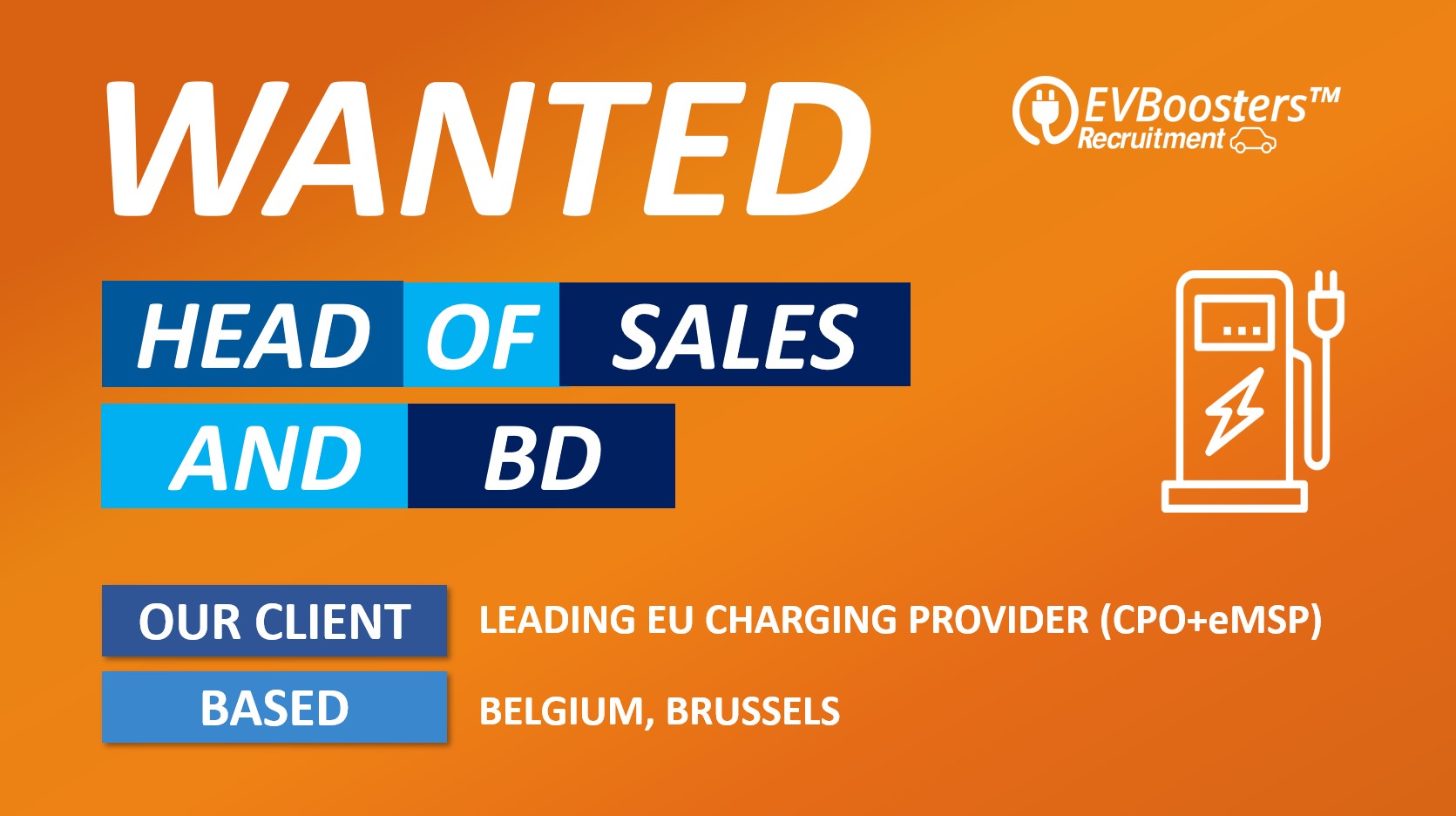 Head of Sales & Business Development – EV Charging
Work at a top 5 global energy company and lead the transition to electric mobility across Europe! You'll be heading the local CPO Sales & Business Development team in Belgium and collaborate with international peers to accelerate cross-border business with partners and clients. Asking: minimum of 5 years' experience in selling EV Charging solutions to governments, municipalities, automotive players, fleets, large corporates and retail, minimal of 5 years of leading sales teams, candidate leads by example, minimal of 10 years of Solutions Sales and Tender Management (Consultative/Strategic Selling), minimal of 5 years of leading sales teams, best candidate leads by example.
Sales Director – Charging Software Solutions
Based: Preferably UK or remotely located in Northern Europe
Given the fact that this frontrunner in e-mobility is growing rapidly on a global level, the time has come to speed up geographically and scale across several markets and regions, starting with Europe. Our ideal candidate already built up and maintained a strong and active network with CPO's, Charge Point Manufacturers, Energy Companies & Utilities, Automotive and Fleet operators. You have 3 years or more active in the European EV charging domain. Plus, you preferably knows what it takes to develop, sell, operate, and service charging solutions
Role description
Join Europe's largest independent Charging Management Provider (and Top 3 player in Europe). In this role you become responsible for further expansion across the France region. Or client offers you the opportunity to build up your own team. Requirements: 1) you are a well-known figure in the France EV Charging ecosystem and active for at least 3 years, 2) you currently work for a Charge Point Operator, Charging Station OEM, Electric Vehicle Service Provider or eMSP. You are well connected with French utilities, Municipalities, Automotive and Fleet parties. 
We cover the full e-Mobility value chain
Charging Station OEM
Electric Mobility Provider (EMP)
Charge Point Operator (CPO)
Mobility Service Provider (eMSP)
Leasing companies
EV sharing start-ups
If you are a candidate and open for a new challenge, please make your open application.
Free access and downloads global and regional EV market development surveys, exclusive e-Mobility funding reports 2019, strategies & business models, access to untold EV stories.