Over 30 million EVs hit our European roads charged by 20 million connected and non-connected chargers.
To make this growth really happen around 1 million people will change jobs. By that time 200.000 specialists and leaders are needed to offer create a widespread and user-friendly network of charging infrastructure across the continent.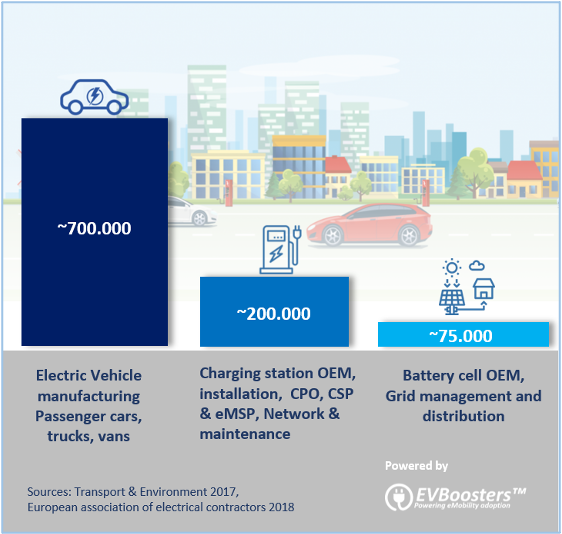 At EVBoosters we are committed to push electric mobility journey since 2010. We have a deep understanding of the European EV and Charging Infrastructure Market, its players, technology, propositions and of course the people. As a result we created in strong cooperation with leading EV Authorities the EVMarketsReports, world's largest database regarding EV Market reports and developments.
We build up one of Europe's largest, most relevant and active networks of professionals and leaders in e-Mobility.
Powering EV Charging Careers across Europe
Our client base covers Charge Point Manufacturers, Charging Software Providers, Charge Point Operators (CPO's), e-Mobility Service Providers (eMSP's), Energy & Utility companies and EV Roaming Hubs.
Besides our shared passion and dedication for powering e-Mobility, our candidates and clients chose to work with us, because…
Expertise and background EV Charging
We empathise with our client's growth challenges due to our deep understanding of the EV Charging Infrastructure Infrastructure market.
Network experienced Leaders & Professionals
Our wide and active network of experienced EV Charging Specialists and Leaders across Europe. 
Respect, no-nonsense and commitment
We don't hit and run. We respect both our candidate's and client's interests to sustain a long-lasting and committed cooperation.
Some of our current EV Charging Jobs
Due to confidentiality, we often don't present senior executive roles via our online channels
(Senior) Sales Manager France (M/F/X)
Ready for your next career step by joining the 'coolest' global DC Charging manufacturer? You already knows what it takes to conquer the French Market. For that reason our ideal candidate has a strong background in EV Charging, a relevant network of CPO's, Automotive and fleet operators plus at least a bachelor. You are of course native in French and you have a good command of the English language.
eMobility Sales Engineer (M/F/X)
The e-Mobility Sales Engineer is the technical expert within the sales team. you evaluate the feasibility of projects requested by customers of TotalEnergies. Next to that, you sort out technical and financial terms for new projects. Requirements: 3 years of relevant project management experience in a similar role, background in EV Charging or related industry, fluent in Dutch and French.
e-Mobility Technical Product Manager (M/F/X)
The e-Mobility Technical Product Manager determines technical/functional developments and test products for Charge Point Operator (CPO) activities in Belgium in order to build the most relevant, appropriate and effective solutions. Requirements: minimum of 1-year technical experience in the eMobility sector / EV Charging Ecosystem, fluent in Dutch and French.
Based: France, Lyon or Paris. Remote working available
The Sales & Support Engineer has an impactful and broad role. He or she acts like a technical adviser in the sales process, manages the delivery of projects and is taking care of after sales & support. Requirements: 3 years of relevant project management experience with a MSc / BSc. in electronics / mechanical engineering. Fluent in French, professional in English language.
eMobility Project Leader (M/F/X)
Based: Brussels, Belgium.
The eMobility Project Leader ensures that charging infrastructure projects are carried out according to the contractual agreements. Requirements: 3 years of relevant project management experience in a similar role, background in EV Charging or related industry, fluent in Dutch and French.
Head of Product Innovation & Design
Based: Surrounding Essen, Germany
As Head of Product Innovation & Design, you're responsible for managing the team of product managers and solution designers, overseeing all the existing and new-e-mobility products and services. Together with your team, you accompany the products and services through all phases in the process, starting with the assessment of the regulatory environment, until the development of the requirements in IT, supported by creating the necessary sales and presentation documents, for the service offering and the training of the sales force.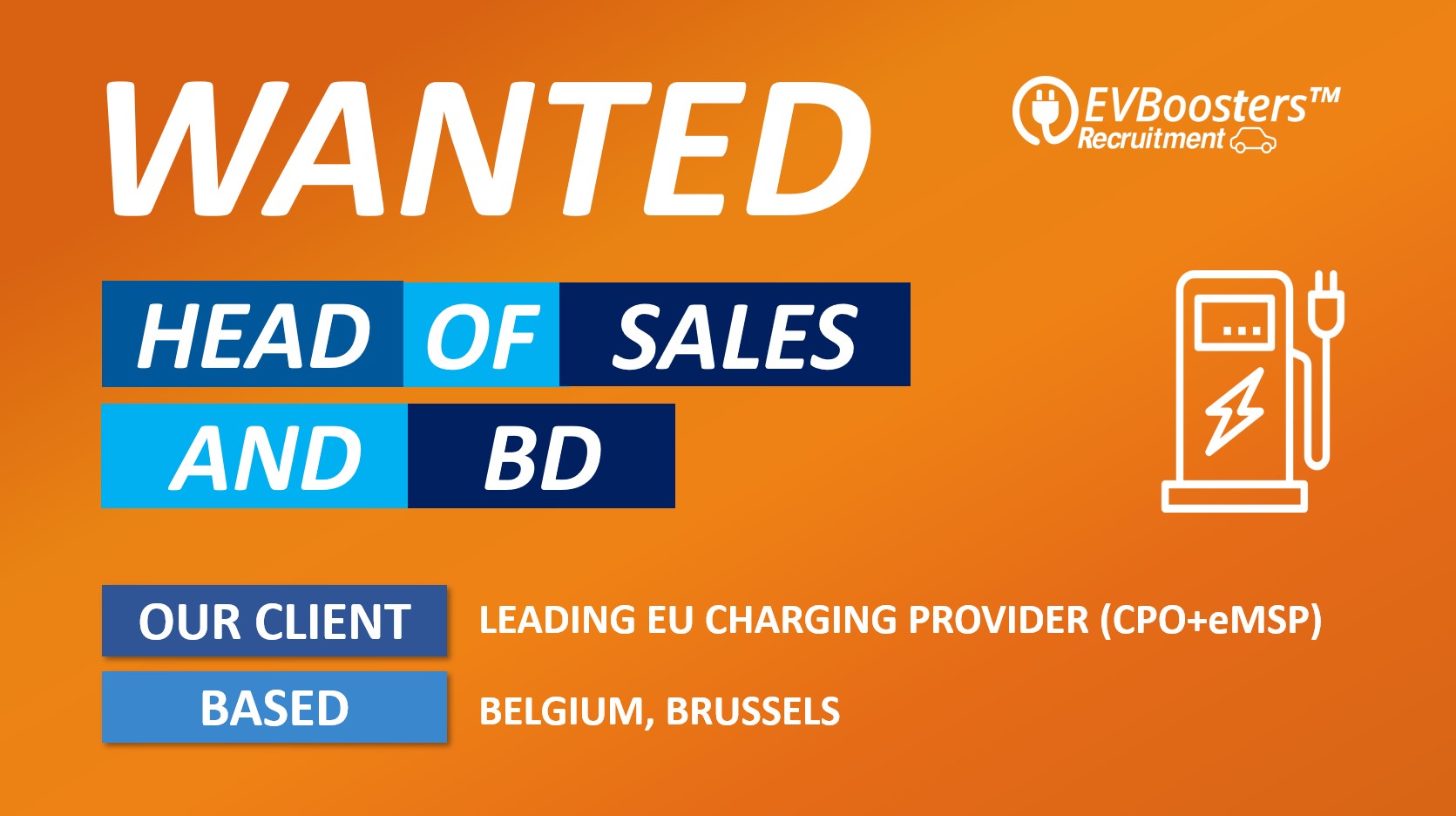 Head of Sales & Business Development – EV Charging
Work at a top 5 global energy company and lead the transition to electric mobility across Europe! You'll be heading the local CPO Sales & Business Development team in Belgium and collaborate with international peers to accelerate cross-border business with partners and clients. Asking: minimum of 5 years' experience in selling EV Charging solutions to governments, municipalities, automotive players, fleets, large corporates and retail, minimal of 5 years of leading sales teams, candidate leads by example, minimal of 10 years of Solutions Sales and Tender Management (Consultative/Strategic Selling), minimal of 5 years of leading sales teams, best candidate leads by example.
Sales Director – Charging Software Solutions
Based: Preferably UK or remotely located in Northern Europe
Given the fact that this frontrunner in e-mobility is growing rapidly on a global level, the time has come to speed up geographically and scale across several markets and regions, starting with Europe. Our ideal candidate already built up and maintained a strong and active network with CPO's, Charge Point Manufacturers, Energy Companies & Utilities, Automotive and Fleet operators. You have 3 years or more active in the European EV charging domain. Plus, you preferably knows what it takes to develop, sell, operate, and service charging solutions
Growing your EV Charging Business across Europe?
We recruit all key roles needed to establish and build a sustainable business. The EV Charging Infrastructure Positions we support vary from leadership and executive roles to Sales & Marketing, Product, Operations, Hardware & Software Development.  
Start working with us today!