Over 30 million EVs hit our European roads charged by 20 million connected and non-connected chargers.
To make this growth really happen around 1 million people will change jobs. By that time 200.000 specialists and leaders are needed to offer create a widespread and user-friendly network of charging infrastructure across the continent.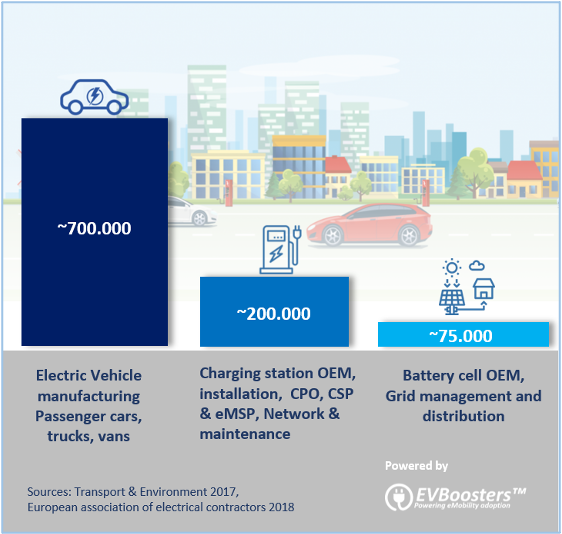 At EVBoosters we are committed to push electric mobility journey since 2010. We have a deep understanding of the European EV and Charging Infrastructure Market, its players, technology, propositions and of course the people. As a result we created in strong cooperation with leading EV Authorities the EV TreasuryRoom.com, world's largest database regarding EV Market reports and developments.
We build up one of Europe's largest, most relevant and active networks of professionals and leaders in e-Mobility.
Powering EV Charging Careers across Europe
Our client base covers Charge Point Manufacturers, Charging Software Providers, Charge Point Operators (CPO's), e-Mobility Service Providers (eMSP's), Energy & Utility companies and EV Roaming Hubs.
Besides our shared passion and dedication for powering e-Mobility, our candidates and clients chose to work with us, because…
Expertise and background EV Charging
We empathise with our client's growth challenges due to our deep understanding of the EV Charging Infrastructure Infrastructure market.
Network experienced Leaders & Professionals
Our wide and active network of experienced EV Charging Specialists and Leaders across Europe. 
Respect, no-nonsense and commitment
We don't hit and run. We respect both our candidate's and client's interests to sustain a long-lasting and committed cooperation.
Some of our current EV Charging Jobs
Charging Software Provider
Based: remote, based in Zurich
As a Java Developer Charging Software, you'll be focused to further develop and expand a cloud-based application for the EV charging market. Together with another senior developer, you will be directly sparring with the CEO to translate requirements into technical solutions. Asking: 3 years of Java experience, Framework experience (like Spring/Hibernate) experience with frontend technologies (Angular) is a plus.
Senior Partner Manager e-MSP
Based: Germany, surrounding Essen
Leading Electric Mobility Provider near Essen. Requirements: 2+ Years' of experience in a similar role, broad network of Charge Point Operators (CPO's) across Europe, deep understanding of the European EV Charging Infrastructure market (players, regulations, pricing), you already worked in a start-up and scaleup environment, great command of the English language, sales and purchasing capabilities and (of course) an entrepreneurial drive.
Senior Software Architect – Charging Software Provider
EVBoosters is offering you the role of Senior Software Architect, at a top 3 white-label solution provider for EV charging, energy transaction and smart cities. As a Software Architect, you will further shape the technical landscape and lead a team of highly skilled developers in EV Charging. Your skillset: 5+ Years' experience as a Software Architect / Senior engineer, Several dev languages e.g. PHP, Java, C, Python and/or C# and (preferably) Extensive OCPP and OCPI knowledge/experience.
Sales Director – Charging Software Solutions
Based: Preferably UK or remotely located in Northern Europe
Given the fact that this frontrunner in e-mobility is growing rapidly on a global level, the time has come to speed up geographically and scale across several markets and regions, starting with Europe. Our ideal candidate already built up and maintained a strong and active network with CPO's, Charge Point Manufacturers, Energy Companies & Utilities, Automotive and Fleet operators. You have 3 years or more active in the European EV charging domain. Plus, you preferably knows what it takes to develop, sell, operate, and service charging solutions
Senior Backend Software Developer
Based: United Kingdom, London
This well-known London based start-up is playing a leading role in the further development of applications for Plug and Charge / V2G (15118) applications. Our client offers you the chance to work in cross-functional teams, to take ownership and lead the fast-growing and agile team. A unique opportunity to shape the foundations of the new SaaS products and make a global impact through your work. You are great a great Python coder, preferably you already worked on the 15118 protocol and OCCP 1.6 (preferably 2.0.1.) Great remuneration package!
EV Charging Infrastructure
Global Product Group Service Manager
Based: The Netherlands or Italy
You are in the lead of building and manage one of the world's largest service operations in the e-Mobility industry. Along with your team, you will further build and organize the worldwide Product Service organisation. The ideal candidate is 'in charge' to develop and integrate the optimal strategy for; Service Sales, Field Service, Digital Evolution & Returns & Repairs. Background: Master in Electrical or Mechanical Engineering, at least 10 years of experience in an international scale-up environment on Operations/Service level and you have a cross- cultural and open mindset to ensure alignment on all levels.
Role description 
Become part of a bigger story and join this leading CPO back-end provider. In this position you are responsible for the further expansion into the European markets, achieving top line revenue growth, and increasing contribution margin.

Requirements:
1) you have a proven commercial background in EV Charging across Europe of at least 4 years ( CPO Back-end, CPO or eMSP),
2) (EV) SaaS Solution selling experience
3) you are an experienced sales manager (at least 7 years) and you know what it takes to build a successful commercial international team.
Please contact pauljan.jacobs@evboosters.com for more info.
EV Charging Infrastructure
Join Europe's largest independent Charging Management Provider (and Top 3 player in Europe). In this role you become responsible for further expansion across the France region. Or client offers you the opportunity to build up your own team. Requirements: 1) you are a well-known figure in the France EV Charging ecosystem and active for at least 3 years, 2) you currently work for a Charge Point Operator, Charging Station OEM, Electric Vehicle Service Provider or eMSP. You are well connected with French Utilities, Municipalities, Automotive and Fleet parties. Apply directly.
Growing your EV Charging Business across Europe?
We recruit all key roles needed to establish and build a sustainable business. The EV Charging Infrastructure Positions we support vary from leadership and executive roles to Sales & Marketing, Product, Operations, Hardware & Software Development.  
Start working with us today!