Over 30 million EVs hit our European roads charged by 20 million connected and non-connected chargers.
To make this growth really happen around 1 million people will change jobs. By that time 200.000 specialists and leaders are needed to offer create a widespread and user-friendly network of charging infrastructure across the continent.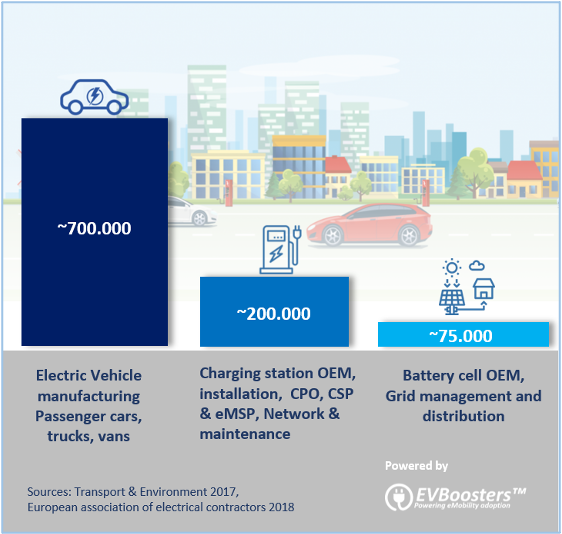 At EVBoosters we are committed to push electric mobility journey since 2010. We have a deep understanding of the European EV and Charging Infrastructure Market, its players, technology, propositions and of course the people. As a result we created in strong cooperation with leading EV Authorities the EVMarketsReports, world's largest database regarding EV Market reports and developments.
We build up one of Europe's largest, most relevant and active networks of professionals and leaders in e-Mobility.
Powering EV Charging Careers across Europe
Our client base covers Charge Point Manufacturers, Charging Software Providers, Charge Point Operators (CPO's), e-Mobility Service Providers (eMSP's), Energy & Utility companies and EV Roaming Hubs.
Besides our shared passion and dedication for powering e-Mobility, our candidates and clients chose to work with us, because…
Expertise and background EV Charging
We empathise with our client's growth challenges due to our deep understanding of the EV Charging Infrastructure Infrastructure market.
Network experienced Leaders & Professionals
Our wide and active network of experienced EV Charging Specialists and Leaders across Europe. 
Respect, no-nonsense and commitment
We don't hit and run. We respect both our candidate's and client's interests to sustain a long-lasting and committed cooperation.
Some of our current EV Charging Jobs
Due to confidentiality, we often don't present senior executive roles via our online channels
EV Charging Infrastructure
Business Development Manager France
Based: Paris, remote working availability
Our client is the world's leading parking payment provider who is currently in the process of expanding its CPO activities for municipalities and parking operators in France. Therefore, the team is looking for a seasoned Senior Business Development manager to develop, launch and operate this new CPO proposition. Key requirement: at least 2 years of commercial and/or product management working experience in the French EV Charging Industry (preferably at a CPO)
Charging Software Provider
Based: Germany, remote working availabilities
Our client is among the leading European Charge Point software companies, offering white label services to Charge Point Operators (CPO's) and e-Mobility Service Providers (eMSP's). It will be your job to further grow the market share in the DACH region, extend the team and increase the awareness. Requirements: Deal closer (proven track-record) with at least 5 years of consultative selling, at least 2 years in managing commercial teams. 3 years or more in EV Charging.
EV Charging Infrastructure
Sales Manager United Kingdom
Based: United Kingdom, London (remote working availabilities)
Our client (listed Nasdaq Finland), manufactures DC EV charging solutions and services for electric vehicles (EVs) operating in the most demanding conditions. This EV Charging manufacturer is currently recruiting a sales manager. Requirements: You are a solution seller with a minimum of 3 years of working experience in technical sales in a B2B market and experience of working in an international, fast-growing and multi-disciplinary environment.
Senior Business Development Manager Germany
Based: Germany, remote working availability
This pan-European EV Charging player, backed by a huge renewable energy provider, is already deploying 3.700 HPC chargers across Germany, France, Austria, Switzerland and Italy. To expand its position in Germany the company is currently recruiting a Senior Business Development Manager. Requirements: at least 5 years in a B2B (Charging Solutions) selling role, at least 3 years of experience within the German EV Charging market, Up-to-date understanding of the German Charging market/regulatory framework.
Head of Product Innovation & Design
Based: Surrounding Essen, Germany
As Head of Product Innovation & Design, you're responsible for managing the team of product managers and solution designers, overseeing all the existing and new-e-mobility products and services. Together with your team, you accompany the products and services through all phases in the process, starting with the assessment of the regulatory environment, until the development of the requirements in IT, supported by creating the necessary sales and presentation documents, for the service offering and the training of the sales force.
Growing your EV Charging Business across Europe?
We recruit all key roles needed to establish and build a sustainable business. The EV Charging Infrastructure Positions we support vary from leadership and executive roles to Sales & Marketing, Product, Operations, Hardware & Software Development.  
Start working with us today!