We understand the EV, energy and mobility landscape from inside and strongly empathize with your challenges. ​
Fully focussed on the e-Mobility Landscape and in particular the charging ecosystem. Growth and tactical planning EU mainland. ​
We work along with senior and highly experienced EV related specialists regarding strategy, business and M&A challenges.​
Powering e-Mobility adoption
About EVBoosters Growth Advisory
We understand the EV Industry from the inside and use our deep market knowledge and business experience to grow the European EV Industry.  Besides EV related companies we also work for Energy & Utilities and Investors. ​
We power e-Mobility adoptions by supporting leading EV Industry players and investors with regards to direction, tactical challenges and funding needs. ​
We cover the full eMobility value chain
Charging Station OEM
Electric Mobility Provider (EMP)
Charge Point Operator (CPO)
Mobility Service Provider (eMSP)
Leasing companies
EV sharing start-ups
Corporate Venturing
VC
Investment Bank
About the founder Paul Jan Jacobs
What really makes Paul Jan (1977) tick is creating growth and new business openings within emerging markets. For that reason he moved since 2010 into the e-Mobility, Future Transport and Smart Energy Domains. He envisions that e-Mobility has to be accessible for everyone in 5 years' time from now (2019), offering a seamless, affordable and pleasant journey.
Previous, he was heading Eneco Group's e-Mobility Domain. He resigned since 2018 and founded EVBoosters™. This company is fully focused on accelerating electric mobility adoption via growth advisory services and by building future proof companies with the best people around. Exciting times ahead!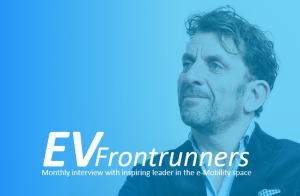 Monthly headline
For this episode, we interviewed Eric van Voorden. He is the founder and CEO of Last Mile Solutions (2007) and the Chairman of the Dutch
Read more