Powering e-Mobility Careers
Senior Backend Software Developer
Based: United Kingdom, London
This well-known London based start-up is playing a leading role in the further development of applications for Plug and Charge / V2G (15118) applications. Our client offers you the chance to work in cross-functional teams, to take ownership and lead the fast-growing and agile team. A unique opportunity to shape the foundations of the new SaaS products and make a global impact through your work. You are great a great Python coder, preferably you already worked on the 15118 protocol and OCCP 1.6 (preferably 2.0.1.) Great remuneration package!
EV Charging Infrastructure
Senior Digital Growth Marketeer
With a clear goal to grow faster than the EV market our client aspires to position itself as the go-to-company both online as offline to start or expand your EV Charging network as an Charge Point Operator (CPO) or Electric Mobility Provider (EMP). To make this happen, our client will need to further digitalize its sales and marketing approach which is why EVBoosters Recruitment has been appointed to recruit an experienced Senior Digital Growth Marketeer.
EV Charging Infrastructure
Join Europe's largest independent Charging Management Provider (and Top 3 player in Europe). In this role you become responsible for further expansion across the France region. Or client offers you the opportunity to build up your own team. Requirements: 1) you are a well-known figure in the France EV Charging ecosystem and active for at least 3 years, 2) you currently work for a Charge Point Operator, Charging Station OEM, Electric Vehicle Service Provider or eMSP. You are well connected with French Utilities, Municipalities, Automotive and Fleet parties. Apply directly.
Based: Preferably Berlin or Amsterdam
Role description
One of The leading global EV Automotive brands is going to start to operate their own charging solutions across Europe from 2020. It's your task to build up a strong team, develop partnerships and establish a stronghold in the top 5 countries within a number of years.
Based: To be defined, preferably Europe
Role description
Our client is one of the top 3 global fast charging players. Main responsibilities are 1) to develop and execute a winning global sales & marketing  strategy and 2) play a leading role in acquiring new global strategic accounts and developing partnerships. High-pace assignment for seasoned leader.
Role description
An upcoming Chinese EV brand is preparing to enter Europe from 2021. It's your job hire a great team, develop national dealerships and build up a strong brand on the European mainland the following years.
We cover the full e-Mobility value chain
Charging Station OEM
Electric Mobility Provider (EMP)
Charge Point Operator (CPO)
Mobility Service Provider (eMSP)
Leasing companies
EV sharing start-ups
Your next career step in e-Mobility
We welcome motivated and experienced EV candidates to make an open application
* We will file candidates who have a strong and international background in eMobility, Automotive/Transport, Energy & Utilities and Software (SAAS Solutions)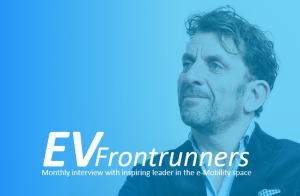 Monthly headline
For this episode, we interviewed Eric van Voorden. He is the founder and CEO of Last Mile Solutions (2007) and the Chairman of the Dutch
Read more