Powering e-Mobility Careers
EV Charging Infrastructure
Service Engineer Benelux
Based: Benelux, remote working availability
Our client (listed Nasdaq Finland), is a manufacturer of leading DC EV charging solutions and services for electric vehicles (EVs). This global EV scaleup is currently recruiting a service engineer for the Benelux market. Requirements: at least 3 years of working experience in service and support with a background in electronical engineering or similar, experienced in commissioning power electronics (preferably EV Charging), fluent in Dutch (C2), English (B1)
EV Charging Infrastructure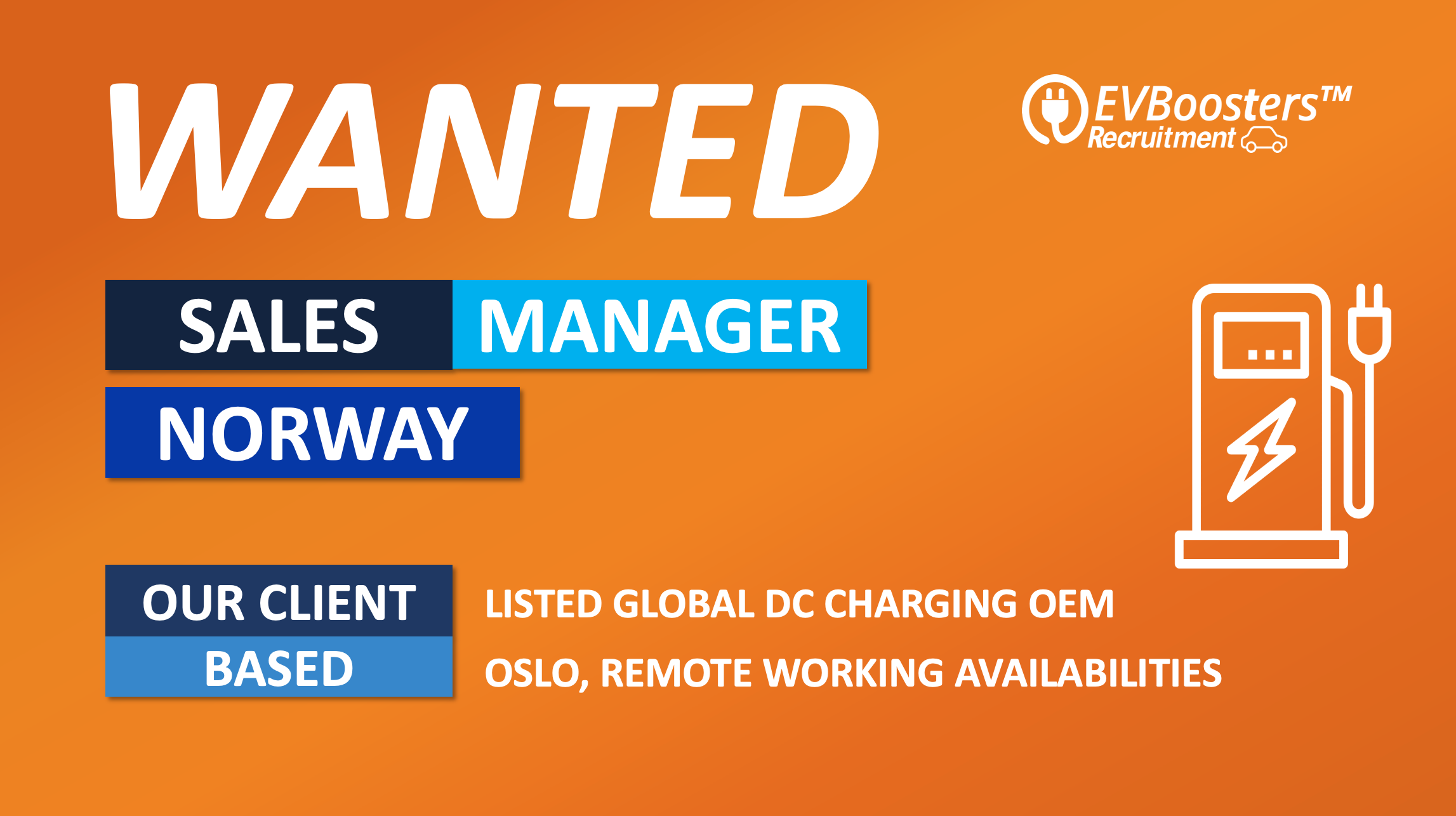 Sales Manager Norway (M/F/X)
Based: Norway, Oslo (remote working availabilities)
Our client (listed Nasdaq Finland), manufactures DC EV charging solutions and services for electric vehicles (EVs) operating in the most demanding conditions. This EV Charging manufacturer is currently recruiting a sales manager. Requirements: You are a solution seller with a minimum of 3 years of working experience in technical sales in a B2B market and experience of working in an international, fast-growing and multi-disciplinary environment
Senior Business Development Manager Germany
Based: Germany, remote working availability
This pan-European EV Charging player, backed by a huge renewable energy provider, is already deploying 3.700 HPC chargers across Germany, France, Austria, Switzerland and Italy. To expand its position in Germany the company is currently recruiting a Senior Business Development Manager. Requirements: at least 5 years in a B2B (Charging Solutions) selling role, at least 3 years of experience within the German EV Charging market, Up-to-date understanding of the German Charging market/regulatory framework.
Charging Software Provider
eMobility Customer Success Manager DACH (M/F/X)
Based: DACH Region, remote working availability
Our client is the largest independent Charging Software Platform (CSP) provider in Europe, managing more than 70.000 charge points. This EV Charging scale-up is currently recruiting a Customer Success Manager DACH. Requirements: At least 2 years in a commercial B2B (EV Charging role) solutions sales role, strong project management skillset, native German and professional command of the English language.
Head of Business Development EV Charging Solutions
Based: Offices in all major EU countries, remote working
The opportunities regarding integrating parking and EV Charging solutions are massive for this largest parking payment provider in the world. For that reason, the company started the first activities a few years ago already. It will be your role to further develop new value propositions and monetize this along with the local partners and offices on the European continent. Requirements: At least 5 years of experience at a eMSP/CPO or charging manufacturer, good understanding of developing and commercializing EV Charging products/services.
eMobility Sales Engineer (M/F/X)
The e-Mobility Sales Engineer is the technical expert within the sales team. you evaluate the feasibility of projects requested by customers of TotalEnergies. Next to that, you sort out technical and financial terms for new projects. Requirements: 3 years of relevant project management experience in a similar role, background in EV Charging or related industry, fluent in Dutch and French.
Based: Preferably Berlin or Amsterdam
Role description
One of The leading global EV Automotive brands is going to start to operate their own charging solutions across Europe from 2020. It's your task to build up a strong team, develop partnerships and establish a stronghold in the top 5 countries within a number of years.
Based: To be defined, preferably Europe
Role description
Our client is one of the top 3 global fast charging players. Main responsibilities are 1) to develop and execute a winning global sales & marketing  strategy and 2) play a leading role in acquiring new global strategic accounts and developing partnerships. High-pace assignment for seasoned leader.
Role description
An upcoming Chinese EV brand is preparing to enter Europe from 2021. It's your job hire a great team, develop national dealerships and build up a strong brand on the European mainland the following years.
We cover the full e-Mobility value chain
Charging Station OEM
Electric Mobility Provider (EMP)
Charge Point Operator (CPO)
Mobility Service Provider (eMSP)
Leasing companies
EV sharing start-ups
Your next career step in e-Mobility
We welcome motivated and experienced EV candidates to make an open application
* We will file candidates who have a strong and international background in eMobility, Automotive/Transport, Energy & Utilities and Software (SAAS Solutions)
Headline
In the third quarter of 2022, battery electric vehicles (BEVs) recorded an increase in market share as high sales persisted. In the EU, BEVs now
Read more